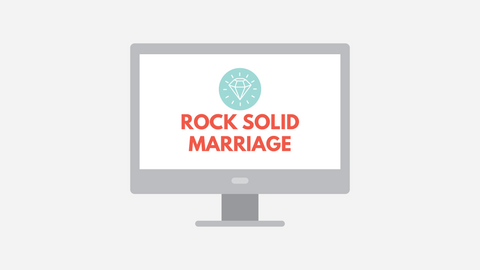 ONLINE COURSE: Rock Solid Marriage
Sign up for the innovative Rock Solid Marriage Course. Taught through video instruction by Dr. John Van Epp and Dr. Morgan Cutlip.
Couples begin this course with taking the Married Couple Check-Up Assessment (Prepare/Enrich). They receive a report about their relationship in an email. This assessment provides an evaluation of the strengths and needed areas of improvement in ten categories of their relationship.
As they begin the Rock Solid Marriage Course, they are guided by the video lessons of Dr. John Van Epp and Dr. Morgan Cutlip to discuss and and learn how they can strengthen the bonds of their relationship with practical skills. 
What you will receive...
lifetime of access to the Rock Solid course online
Video instruction (over 4 hours)
A downloadable workbook to use when taking the course

Downloadable skill sheets
Module Descriptions...
Each lesson is also divided into smaller lesson parts (described below) with a brief lesson description.
SESSION 1: BE A ROCK SOLID PARTNER (total 65 MINUTES)

Part1—18 min; Part2—20 min; Part3—27 min

Here you will learn what it takes to be a Rock Solid partner. You will learn three qualities of healthy partners and how to increase those qualities and skills in your own life.

SESSION 2: BUILD A ROCK SOLID RELATIONSHIP (total 37 MINUTES)

Part1—18 min; Part2—19 min

In this session, you will be provided with a practical + visual definition of a relationship. You will also learn three truths of relationships that will empower you to intentionally manage your relationship, revitalizing the core bonds that keep you close and secure together.

SESSION 3: STAY IN THE KNOW WITH YOUR PARTNER (total 33 MINUTES)

Part1—16 min; Part2—17 min

You will learn about what it takes to have healthy communication in your relationship and the skills necessary to do so. You will also be provided with a skill sheet to help you practice healthy communication and listening skills.

SESSION 4: MAINTAIN A POSITIVE ATTITUDE TOWARD YOUR PARTNER (total 35 MINUTES)

Part1—18 min; Part2—17 min

It is so easy to get into a bad attitude toward your partner, but it can be so hard to get out of it. Learn about how to actively manage your attitudes + how to let go of irritations and poor before it leads to deep resentments.

SESSION 5: BE A CONNOISSEUR OF YOUR PARTNER (total 24 MINUTES)

We all have basic needs and even more important love needs in our relationships. This lesson provides a mutually respectful and fulfilling approach to identifying and meeting the unique needs of your partner.  

SESSION 6: KEEP A STRONG COMMITMENT TO YOUR PARTNER ( total 30 MINUTES)

Learn about the two important dimensions of commitment and how practicing commitment can strengthen other areas of your relationship.

SESSION 7: ENGAGE IN ROMANTIC LOVING TOUCH WITH YOUR PARTNER (28 MINUTES)

Learn about the importance of your physical relationship and intimacy. The differences between sexual drive and arousal are discussed and you will be provided with crucial conversations to have about your sexual relationship.
About your instructors...
Dr. John Van Epp has been featured in The Wall Street Journal, Time Magazine, Psychology Today, O Magazine, and Cosmopolitan; and he has appeared on the CBS Early Show, the O'Reilly Factor, Fox News, and Focus on the Family.
Dr. Morgan Cutlip has been a contributor to Verily Magazine, a keynote speaker at Smart Marriage, NARME, Mothergood, and Women of Purpose conferences and a featured expert for Teen Vogue. You can follow along with her on her instagram at @MyLoveThinks.